Thailand Heart of Belly Dance with Rachel Brice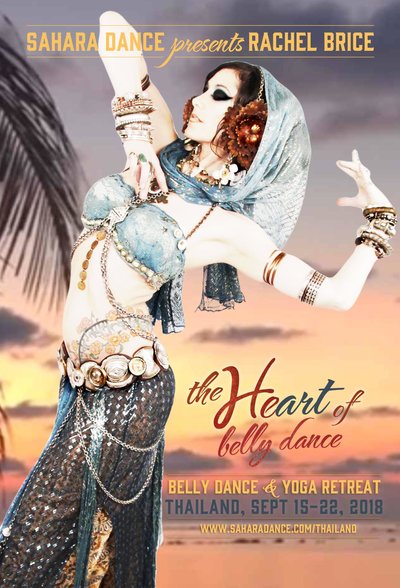 Put the world on pause to immerse yourself in an intensive yoga and dance retreat designed to rejuvenate your love for belly dance
Samahita Retreat, Koh Samui, Thailand
"Asia's Top Ten Wellness Resoits"- CNN Travel
September 15-22, 2018
Don't miss this unique tropical belly dance retreat, complete with:
All-inclusive week-long retreat (room, meals, dance classes, yoga)
Daily technique, combination, choreography and yoga classes with Rachel Brice
Q & A with Rachel Brice
Mindfulness for dancers
Journal practice for creativity
Virtually private, swimmable beach just steps away!
Beachside salt water pool
Balconies on every room
Herbal steam room
Beachside lounge
Access to Samahita's YogaCoreCycle integrated fitness facilities
Mineral drinking water
Cultural and natural beauty excursions – Complimentary snorkeling tour, Bophut Fisherman's Village walking street and Lamai market trips
Wellness Spa offering holistic treatments
Heart of Egyptian Dance class with Rachel Kay Brookmire
Creativity circle
Closing hafla / dance party
Wi-fi throughout the resort
Let us dance in the sun, wearing wild flowers in our hair… ~Susan Polis Shutz
Experience the island beauty of Koh Samui, while studying with a founder of tribal fusion belly dance, the one and only Rachel Brice.
This retreat focuses on the enjoyment of belly dance as a way to vibrant health, community, and authentic artistry. Samahita Retreat is a perfect location for "The Heart of Belly Dance" retreats. Samahita Retreat is located on the southern beach on Koh Samui, a tropical island in the Gulf of Thailand that still has long stretches of pristine beaches and unspoiled land. With encompassing natural beauty as our setting and a week of communal living, our focus is on dancing with nature and with each other.
Enjoy delicious, healthy food, enhanced with Thai flavors and sourced locally when possible. Rejuvenate with wellness treatments, nature excursions, and walks on the beach.
Choose your own adventure! You can attend all the classes or none at all. Spend your days practicing yoga, learning tribal belly dance technique and choreographies, reading by the pool and sleeping in, or enjoying a variety of spa treatments – your choice!
Leave your cares at home and reconnect with your love for belly dance. Join us for a week of dance and yoga bliss.
Join the Rachel Brice Tribal Belly Dance & Yoga Retreat Group on Facebook!
ACCOMMODATIONS AND FEES
Samahita rooms are set back from the main retreat, perfect for quiet contemplation and relaxation. The eco-friendly buildings make use of cross ventilation, natural lighting, rainwater harvesting, and solar power. Regardless of which room you stay in, the yoga shala, restaurant and lounge, swimming pool, and beach are only one minute away.
All rooms include the following modern amenities:
Private balcony
Air conditioning
Queen-size bed
Ceiling fan
iPod ready alarm clock
Writing desk
Refridgerator
Hot water kettle
Wifi internet access
Hair dryer
Personal locker suitable for laptops and other personal effects
100% natural non bleach cotton sheets and towels
Registration includes all dance classes, lodging, shuttle transportation, and three meals per day. Airfare, gratuity, excursions, bar and spa services are not included in the rates listed below.
ROOM SELECTION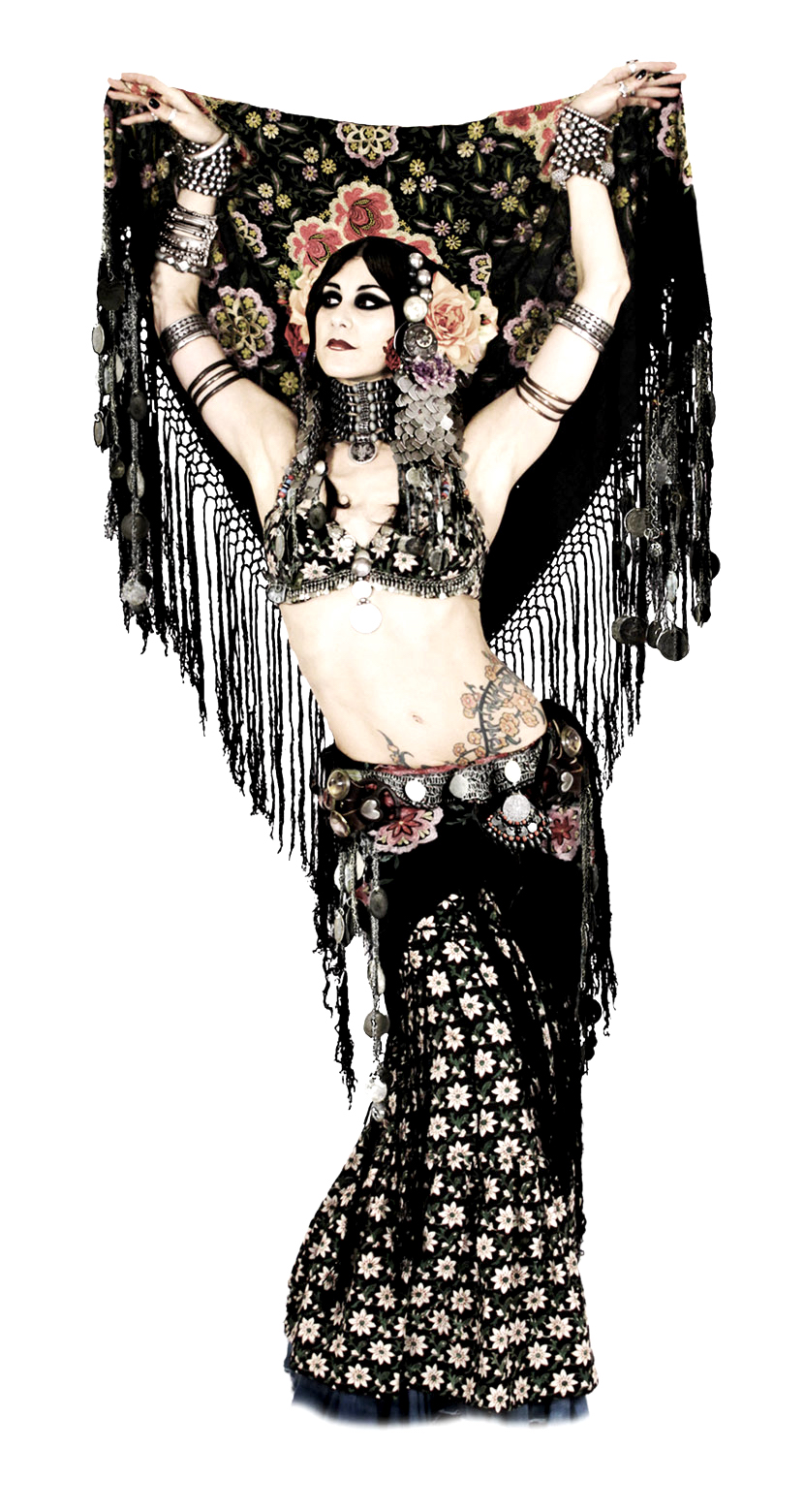 ABOUT RACHEL BRICE
Rachel Brice first fell in love with Belly Dance at 16 years old, when she saw The Gypsy Moor Dancers (who later became Hahbi'Ru) at a Renaissance Faire, and started classes with Atesh immediately. Soon after, she discovered a video of Suhaila Salimpour which she obsessively studied. She began making her living by performing American Cabaret Belly Dance at restaurants and teaching yoga while putting herself through school.
A decade later she discovered Carolena Nericcio's American Tribal Style, which shifted her aesthetic from nightclub to nomad, and Jill Parker became her technique inspiration. She then studied several world and contemporary dance forms as she earned a Bachelor's Degree in Dance Ethnology. The fresh immersion in these dance forms and exposure to San Francisco culture began to mix with her 10 years as a restaurant dancer, and she (unwittingly) started to blend these influences and create something new.
In 2001 she was accidentally discovered by rock mogul Miles Copeland, and toured for several years with his company, The Bellydance Superstars. Through The BDSS, Rachel had the opportunity to work with the incredible Mardi Love, who quickly became her hero and muse. Mardi had also started with Cabaret before discovering Tribal, and as they made dances and costumes together for BDSS, a new style, influenced by the late 1800s to 1920s, emerged. These international tours, along with the newly born YouTube, sparked a global interest in this emerging style of Belly Dance, which has gone on to grow, change, and evolve.
Today, Rachel studies with her teachers Carolena Nericcio and Gary Kraftsow. Whenever possible, she takes classes with her colleagues.
When not teaching on the road, she lives and teaches at her home studio Datura, located in Portland Oregon.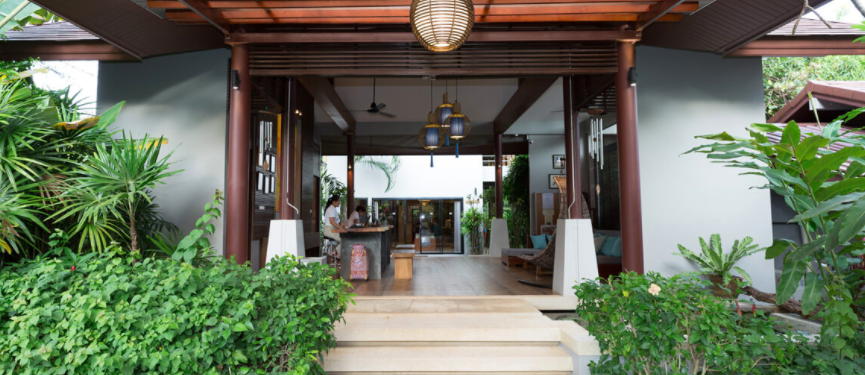 ABOUT SAMAHITA
Samahita Retreat has been a pioneer in healthy programming for the body, breath and mind for almost 15 years. Known as one of the most authentic yoga teaching locations worldwide while introducing a balance of practices and activities for both body and mind that includes meditation, Pranayama and breath work as well as full cardio and core strength fitness routines. Our signature program, YogaCoreCycle, incorporates all these elements, giving a variety of options within a fully inclusive health and fitness program while still continuing with a full yoga offering, all directly on the beach.
Samahita Retreat is set away from the busy tourist areas, chosen for its proximity to Koh Samui's important cultural and historical landmark, Laem Sor Pagoda. Formerly known as "Yoga Thailand" our lifestyle retreat center features a variety of guest room options, wifi across the property, 4 dedicated yoga shalas, an indoor cycle studio at the beach, an open air fitness and barre sea-view loft, a detox and wellness center, eco-lifestyle boutique, juice and coffee bar, drinking water stations, and our celebrated buffet–style health-food restaurant, Sattva Dining.
Samahita is owned and directed by Paul Dallaghan, a senior yogi, educator and researcher in the fields of stress management, breath, and overall well-being. Samahita has been a location for practice, learning and relaxation for tens of thousands of guests, from all walks of life. We are neither a luxury hotel nor a silent retreat – but rather celebrated by many as a friendly, inclusive center where guests from around the world can grow, relax and transform together.
Our purpose is to help positively shape and affect your lives. We encourage engagement and participation in activities and practices, knowing only through that can you experience lasting growth. Our location on this beach makes Samahita the ideal setting for long walks and relaxation. We offer complimentary tours to local markets and a boat trip to beautiful surrounding islands for all our guests.
For your health and environment, Samahita Retreat is a smoke and alcohol free retreat center. We look forward to welcoming you.
THE FOOD
Delicious, wholesome and nutritious cuisine is included! Your stay at Samahita includes three consciously prepared meals each day. Most meals are gourmet vegetarian, with fresh, fish served each day. Drawing upon Ayurvedic principals, Samahita sources local produce whenever possible to create food prepared with love (and delicious Thai flavors!)
PAYMENT PLAN
A non-refundable deposit of $1050/person by credit card will reserve your room and your spot in the workshops.
The remaining balance will be charged to your credit card in equal monthly payments. Please call us at +1 (202) 362-4400 to set up a payment plan and guarantee your spot.
* * * * *
Cancellation policy: If you decide to cancel your trip, we require written notification of your cancellation. In addition, the following cancellation fees apply:
91 days or more prior to the retreat: $1,000
0-90 days prior to the retreat: 100% of trip cost
You may sell or transfer your registration to another person. If you do, please send us notice of your registration transfer.
To protect your trip investment, we highly recommend purchasing travel insurance.
Please note that there are no phones or televisions in our guest accommodations.
Non-participant Room Rate:
If you have a friend who would like to accompany you, but won't be taking the workshops, their cost is $600 USD less than the respective room rate above. This non-participant rate includes all meals, their room, and use of the Samahita facilities. If you would like to register a non-dancing participant, please send us an email, and we'll send you registration details.
Spouse/Partner Shared Private Room Rate:
If you have a spouse or partner who would like to accompany you in a private room, but won't be taking the workshops, their cost is $1,420 USD. The shared bed rate is only available for private rooms and not available for semi-private rooms or two-bedroom lofts. This spouse/partner non-participant rate includes all meals, the shared room, and use of the Samahita facilities. If you would like to register a non-dancing participant, please register yourself for a private room and then send us an email, and we'll send you additional registration details.
If you register for a semi-private room or shared two-bedroom loft and are attending the retreat by yourself, you will be assigned a suitemate.
If you register at the double occupancy rate and are attending the retreat by yourself, you will be assigned a roommate.
See more about Heart of Belly Dance Retreats with Rachel Brice here.
GETTING TO SAMAHITA
Please book your flight to arrive on September 15, 2017 and depart on September 22, 2017. There will be no scheduled programming on these travel days.
Shuttle Service to/from Samahita
Group shuttles between the Koh Samui airport and Samahita are included in your registration.
Once you register for the retreat, we will send shuttle information and a form for you to book your shuttle transportation.
Samahita Retreat lies on the south coast of Koh Samui, a tropical island in the Gulf of Thailand that still has long stretches of pristine beaches and unspoiled land. Koh Samui is only about an hour away from Bangkok by air, an hour plus from Singapore, and three hours from Hong Kong. The island has the allure of a remote island paradise but with the accessibility of the region's most popular destinations. To find out how to get to Koh Samui and Thailand click here.