Donna Mejia
World Touring Guest Artist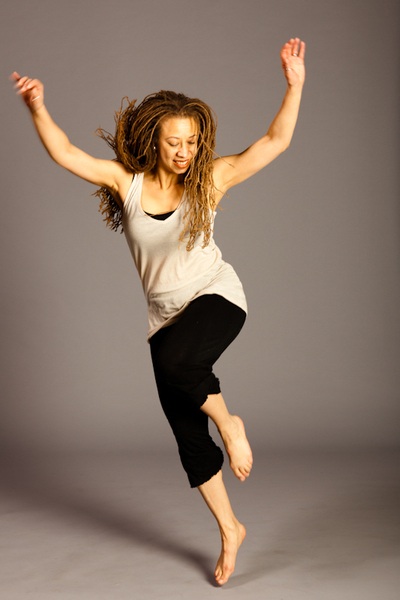 Donna Mejia (Assistant Professor, CU Boulder Theatre and Dance) is a choreographer, scholar, director, and performer specializing in contemporary dance, traditions of the African and Arab Diaspora, and emerging fusion traditions in Transnational Electronica. This genre provides a rich arena for the study of cultural imperialism, gender representation and electronic/digital globalization.
Donna is also an authorized instructor of the Brazilian Silvestre Modern Dance Technique and is a lauded representative of this esoteric study of dance after 20 years of practice. For 10 years she was a faculty member at Colorado College and Director of the Colorado College International Summer Dance Festival. For twelve years she served as Managing Director of the award-winning Harambee African Dance Ensemble of CU-Boulder under the amazing leadership of Instructor Emerita Letitia Williams. The Harambee ensemble was awarded the prestigious El Pomar Foundation grant, was featured in the March 1996 issue of Dance Magazine, performed for President Bill Clinton and Nobel Laureate Archbiship Desmond Tutu, is part of the Denver International Airport time capsule, and was hailed as the "Best of Boulder" for 3 years.
Donna was the Guest Artist in Residence for Smith College Dance 2006 – 2009, and has been awarded residencies at the Naropa Institute, Mt. Holyoke College, Hampshire College, University of Northern Colorado, Taipei National University of the Arts, Bucknell University, Earth Dance, Jacob's Pillow Dance Festival (three years) and the Bates Dance Festival (two years). She was nominated for a Pikes Peak Area Artist award in 2005.
In October of 2011 she was selected by the Fulbright Association to present the Selma Jeanne Cohen Endowed Lecture for International Dance Scholarship in Dance, notably for her paper "Digital Diasporas and Transnational Dance Communities: The Effects of the Internet on Identity Formation and Collective Cultural Memory." Her research was also the featured keynote of Syracuse University's 2012 Symposium on Public Diplomacy.
Donna completed her undergraduate degree in Business at CU-Boulder, and received her Master of Fine Arts degree on full fellowship from Smith College. She joined the University of Colorado at Boulder as an Assistant Professor of Dance in 2012. She is the first professor of tribal/transnational fusion globally. Donna balances her time teaching and touring throughout the U.S. and abroad, and headlined over 27 international festivals since 2012. She was the featured soloist and choreographer for the 2015 NYC off-Broadway production of 11 Reflections on September, and was also performed at the Kennedy Center for the Performing Arts. Her collaboration with vocalist Mankwe Ndosi was part of the 2015 Women of the World Festival at the Apollo Theatre. She has just joined the research and development team of Gaia Bella, the documentary film and performance project directed by Kenji Williams. 
Her choreographic commissions and performances continue to generate outstanding critical reviews from print and digital media.
Research Interests:
Gender representation/social coding in movement practices and dance traditions (both domestically and internationally)
Transnationalism, overlapping identities, multi-ethnicity and emerging models of global citizenship
Investigating how Internet usage is impacting personal identity and collective cultural memory production
Ethics/integrity/cultural appropriation issues in dance fusion
Evolving norms of cultural tolerance and representation in a remixing and "cut and paste" culture
Movement training/specialization in yoga, and the dances of Brazil, Mexico, the Caribbean, West Africa (Gambia, Mali, Senegal, Guinea, Nigeria, Ghana), North Africa (Morocco, Egypt, Algeria, Tunisia and Western Sahara), Ethiopia, Northern India, American Modern Dance, Hip Hop, Electronica and DJ Culture.