Shows
To watch us dance is to hear our hearts speak.
~ Hopi Indian Saying ~
See Sahara Dance faculty, student companies and special guests perform at one of our theater dance productions or in-studio haflas (dance parties)!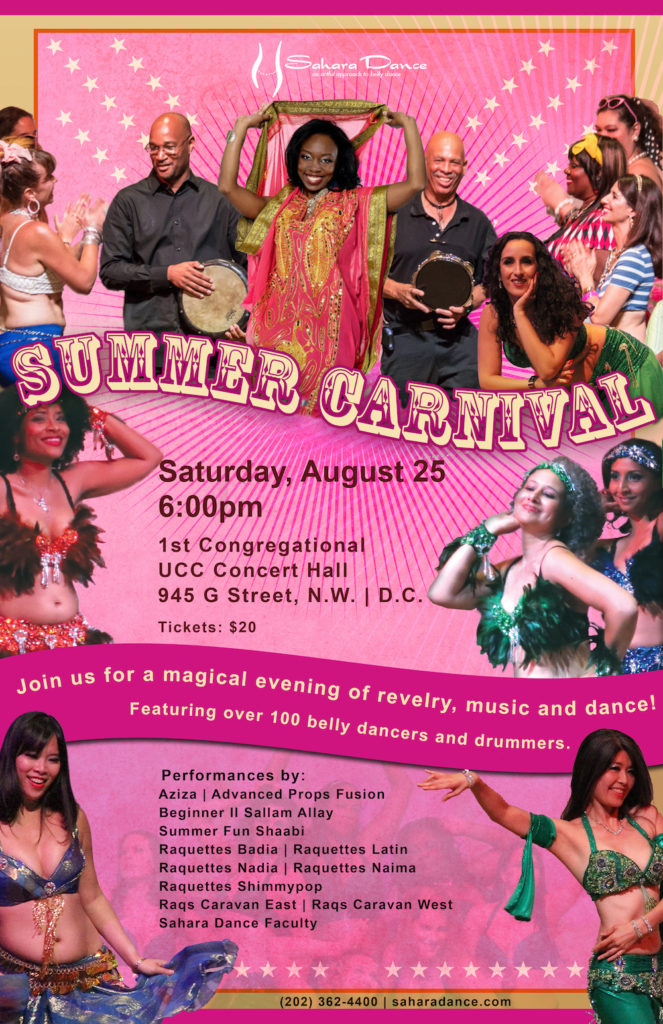 Sahara Summer Carnival
Saturday, August 25, 6:00 pm
Join us for a magical evening of revelry, music and dance!
Featuring performances by:
Aziza Performance
Advanced Props Fusion Performance
Beginner II Sallam Allay Performance
Summer Fun Shaabi Performance
Raquettes Badia
Raquettes Latin
Raquettes Nadia
Raquettes Naima
Raquettes Shimmypop
Raqs Caravan East
Raqs Caravan West
Families are welcome!
Location: 1st Congregational UCC Concert Hall
945 G Street, N.W.
Washington, DC 20001
Transportation: A short walk from the Metro Center and Gallery Place Metro stations.
Kids under 12 come for $15!
Package of 10 tickets (20% off discount): $160