Rachel Kay Brookmire
Sahara Dance Founder and Creative Director
Raqs Sahara Director
Raqs Caravan East Co-Director
Sahara Dance Resident Teacher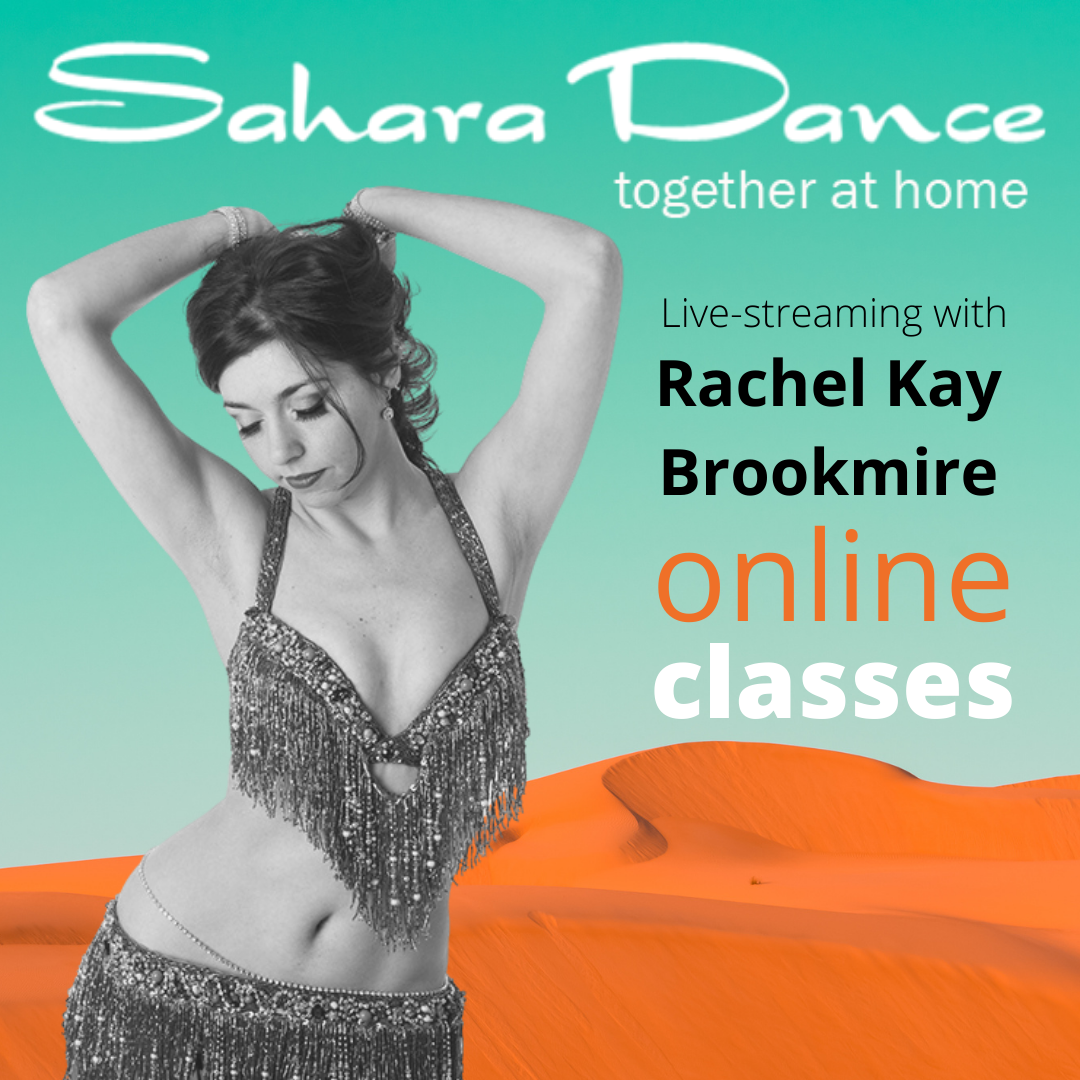 Rachel Kay Brookmire is the founder and director of Sahara Dance. Since 2000, she has taught belly dance to thousands of students throughout the Washington DC area. She is also the creator of Sahara Dance Foundations, an intensive program for training belly dance teachers.
Rachel specializes in Egyptian raqs sharqi for stage. She has performed extensively at theaters, embassies, weddings, and with live bands as a headliner in Arabic nightclubs. Her playful performance style is shimmy-rich and lyrical. She directs Raqs Sahara, Sahara Dance's professional performance ensemble, and Raqs Caravan East, a student company in residence at Sahara Dance. Seeking to elevate and develop belly dance as a theater performance art, Rachel produces and directs several annual theater productions highlighting both traditional and experimental belly dance.
Recognized for her detailed, structured teaching approach, Rachel's classes focus on community, quality movement execution, musicality, and individual expression. Her teaching style emphasizes postural alignment, contextual awareness of Arabic music and culture and a celebration of femininity.  As a student of mindfulness practices and meditation, she seeks to integrate relaxation, body awareness and the cultivation of joyfulness into her dance offerings. Rachel is currently enrolled in Jack Kornfield & Tara Brach's Mindfulness Meditation Teacher Certification Program. 
Before launching a full time dance career, Rachel completed a two-year course of intensive training with Autumn Ward. She has also studied extensively with Yousry Sharif, Sahra Saeeda, Yasmina Ramzy, Hadia, Faten Salama, Aida Nour, Jillina and many other Egyptian dance masters. Shawkat Sayyed, Karim Nagi, George Sawa and Hicham El Anmari have each deeply influenced her understanding of Arab music. Rachel continues training and has traveled several times to Egypt and other Mediterranean and Arab countries. During her apprenticeship with Autumn Ward she was also a member of the Silk Road Dance Company. Prior to discovering Middle Eastern dance, Rachel practiced yoga and trained in modern and West African dance. She received her B.A. in Cultural Anthropology from Boston University and was a member of the Dance Theatre Group.
To learn more about Rachel, check out her profile in Arrive Magazine, and follow her on Twitter, and Facebook.
Student Testimonials
"Rachel is a warm and nurturing instructor and she makes you feel like you can do anything."
"Rachel's classes are always inspiring and challenging."
"Rachel makes you feel relaxed and comfortable regardless of your skill level."
"Rachel is great at coming up with combos that challenge us and show us how the basics can be layered in a ton of ways to create new looks. I feel pushed outside of my comfort zone on most classes and that's good!"
"I enjoy that Rachel pushes you to reach a higher level of dance."
Representative Solo Performances
On tour with UK-based band, Oojami (Toronto & Montreal, Canada)
Nancy Ajram Concert, (Crystal City, VA)
9:30 Club (Washington, DC)
Birchmere with Belly Dance Superstars (Alexandria, VA)
Embassy of Jordan (Washington, DC)
Embassy of Colombia (Washington, DC)
Iota (Arlington, VA)
Smithsonian Sackler Gallery with Yemeni musician AJ (Washington, DC)
Artscape (Baltimore, MD)
Lebanese Taverna 25th Anniversary Celebration (Arlington, VA)
The Building Museum (Washington, DC)
International Monetary Fund (Washington, DC)
Annual Oriental Dance Galas, Egyptian Academy (New York, NY)
Hezz Ye Wezz, Arabesque Academy (Toronto, CA)
Al Masri (San Francisco, CA)
The 3rd National Network of Arab-American Professionals (NAAP) Conference (Washington, DC)
"Caliente" Red Circle Gala at Flashpoint (Washington, DC)